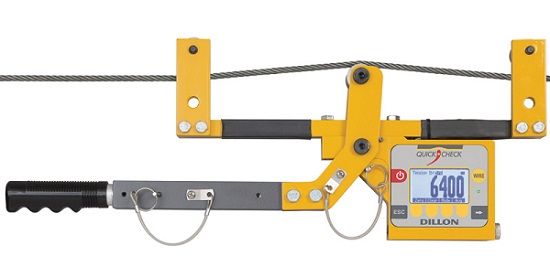 Specifications
Wire Size Chart (XLS)
Download the Quick Check Brochure (PDF)
Quick Check Tension Meter

The Dillon Quick-Check Tension Meter quickly measures tension in cable guardrails, guy lines and overhead wires. It installs, measures and removes in seconds. The digital loadcell is highly accurate and requires no lookup or correction tables. A proven tool for construction and utility companies, in oil fields and manufacturing plants.


Attaches to cable in two seconds
Achieves the best accuracy for wire tension.
Carried easily in one hand.
Accommodates a wide range of wire sizes and types.
Displays the actual tension and eliminates conversion tables.
Designed for outdoor environments and rough handling.
Uses field-proven sensor and electronics.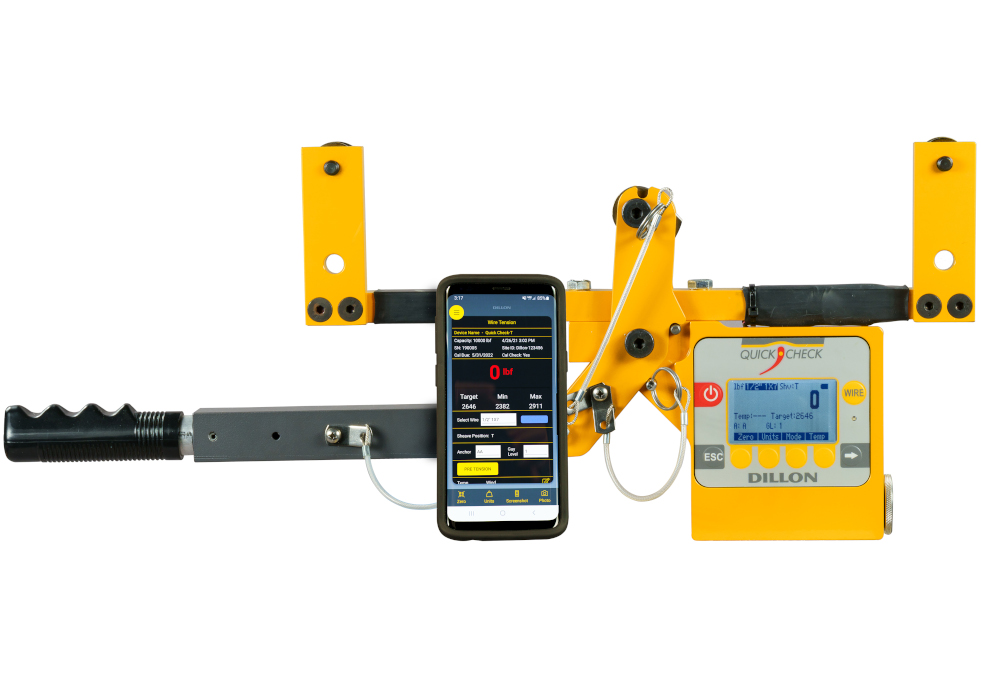 Specifications
Download the Quick Check T (Blue Tooth) Price List (PDF) Download the Quick Check T Brochure (PDF)
Quick Check T blue tooth Tension Meter
The Dillon Quick Check-T tension meter makes a difference. It reduces time on the job site by eliminating the need for whiteboards, changing sheaves, and the need for charts to figure out target tensions. This unit also reduces time off of the job site by having automatic site form completion, with image, and direct complete reports.
Key Features:
Bluetooth® enabled
Custom mobile app
Multi-wire single sheave
Calibration check rod
Automatic report generation with photos
Automatic target tension calculations
Ability to capture pre and post tension readings
Inbuilt image capture
-->

Dillon Quick-Check Gauge
Dillon has designed a new device to take the guesswork out of sizing cables and saving you valuable time. The device can be purchased along with the Dillon Quick-Check, a highly portable tension meter that can quickly be installed to measure tension in guiderails, guy lines and overhead wires. The Quick-Check not only accommodates a wide variety of cable sizes and styles but can also store up to 15 cable sizes in its memory.