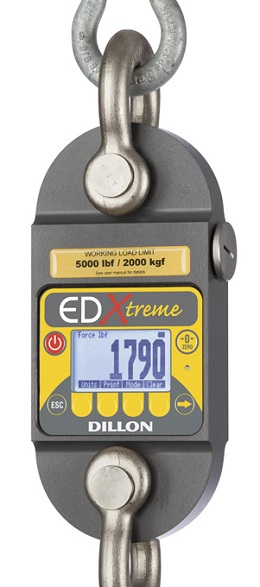 Signature features of the EDxtreme
Xtreme engineering
Building a precision instrument that can survive real-world punishment requires masterful engineering. This is where Dillon's experience shines through. The engineers assigned to the EDxtreme drew on a depth of industrial application knowledge and conducted exhaustive materials testing to achieve the highest structural integrity.
Dillon is extremely proud to announce the new enhanced features of the EDXtreme Dynamometer. The added functionality's provide a greater distance for remote operation, eliminate interference issues and now one or more communicators can monitor multiple dynamometers and display readings at any or all lift points and calculate the total load.
The new great features of the EDXtreme include:
Dramatically improved battery life - 40 hrs to 150 hrs - Over 3X longer
Dramatically improved radio communication distance - 300' to 600'
High speed Peak Capture
Improved backlight intensity
Date and time
Continuous data storage
Re-calibration reminder
Multiple Communicators
Date and time recorded with overload
Faster RF connectivity - less than 2 seconds
+ Superior strength and corrosion resistance - High capacity models are constructed of electroless nickel-plated aircraft-quality alloy steel. Lower capacity models are anodized aircraft-quality aluminum.
+ 5:1 factor of safety - This measure of strength and safety is maintained at all capacities. Computer modeling confirms the low stress and long product life that is inherent in the EDxtreme design.
+ Retained hardware - Allows permanent attachment of centering spacers, which eliminates fumbling during high capacity rigging.
+ NEMA 4X/IP55 - The EDxtreme is clearly the choice for reliability in any environment, in-plant or out on the job site.
Xtreme accuracy: 0.1%
High resolution and accurate repeatable readings are essential to proper weighing. The higher standards set for the EDxtreme meant taking the time to ensure that material characteristics, load element design and strain gage meshed perfectly. The result of that effort is a typical accuracy of 0.1% of full scale capacity. The enhanced resolution mode of 1 part in 5000 provides the level of readability needed for refined weighing.
Xtreme ease
+ Exclusive SOFTKEY interface - Dillon has eliminated confusing menus for faster setup and simple operation. In addition to lbf, kgf and Newtons, programmable functions can correct for gravitational variations and allow the use of custom units of measurement.
+ Wide-angle LCD - Provides improved readability over a wider viewing angle and is available with backlighting for low light conditions.
+ Battery operation - The EDxtreme is powered by two standard C-cell batteries. Batteries are easily accessible for fast replacement.
Wireless Communication
Unlike the single-frequency products on the market today, the EDxtreme radio dynamometer utilizes leading-edge 2.4Ghz radio frequency technology to eliminate common interference. This technology automatically "hops" from frequency to frequency to establish and maintain the strongest, most reliable communications.
Download the EDXtreme Brochure
EDXtreme Communicator Price List
EDXtreme Communicator Alarm Details
---
Configuration Options

A basic stand-alone model can be easily upgraded "in-the-field" to accommodate changing needs. Remote configuration, data acquisition and single point monitoring of multiple links are all possible with the hardwired or radio communication options available with the EDxtreme.



1. Stand-alone EDxtreme for simple, direct measurement applications.

2. Single network with one EDxtreme radio dynamometer and optional Communicator.

3. Single network with multiple EDxtreme radio dynamometers and one optional Communicator. The Communicator offers the ability to monitor the load at each link as well as a viewing the total weight of multiple dynamometers.

4. Multiple network with multiple EDxtreme radio dynamometers and Communicators. The Communicators can be set to monitor any dynamometer in the system or assigned to a specific link or links.

An RS-232 interface is standard on both the EDxtreme and optional Communicator for connection to a host PC.
EDX Specifications