Download the EDjunior Electronic Dynamometer specifications. (PDF format)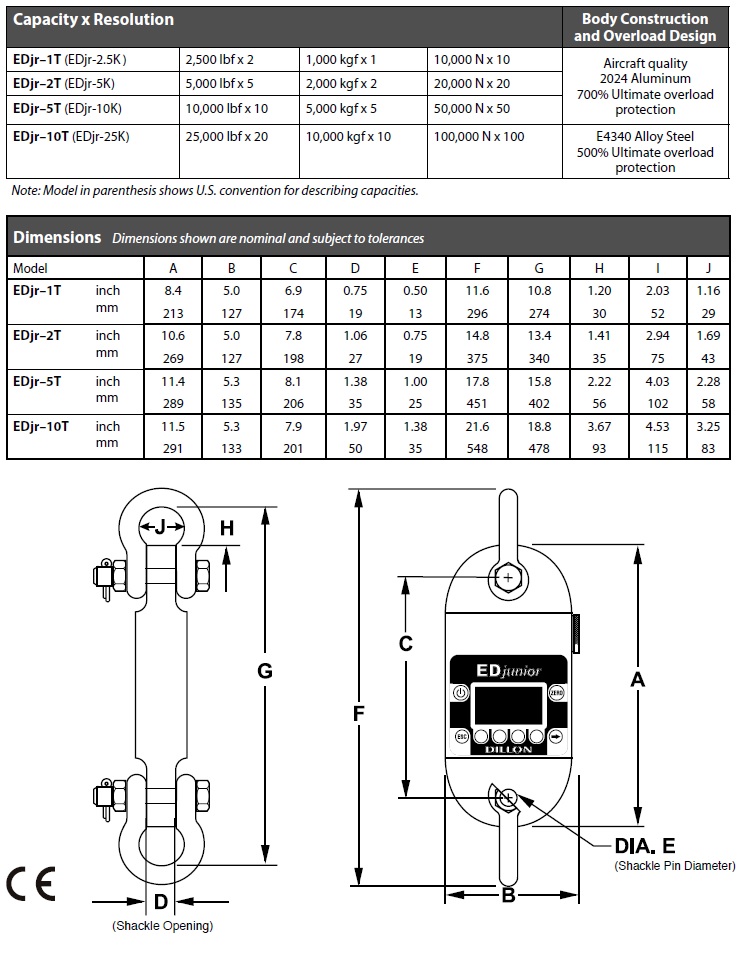 Enclosure: Designed to NEMA4X/IP55. Suitable for continuous outdoor use.
Accuracy: 0.2% of capacity.
Repeatability: 0.2% of capacity.
Proof load: 150% of capacity.
Ultimate overload: See table above.
Safe overload: 200%
Display: 128 x 64 dot-graphic LCD display shows all digits 1.0" (26 mm) high plus annunciators and softkeys.
Display update rate: 2 times per second.
Peak hold sampling rate: 10 times per second typical.
RS-232 communication: Not available. See Dillon EDxtreme.
Calibration: Traceable to the National Institute of Standards and Technology. Calibration card included.
Battery life: 425 hours typical use with two C-cell alkaline batteries.
Backlight: Configurable. Using backlight will consume more battery power, reducing battery life.
Operating temperature: -4° F to 158° F (-20° to 70° C)
Included with instrument: Carry case, Batteries, manual and calibration card.
Warranty: 2 years parts and labor
Overload: Recorded at 120% with date and time stamp: .