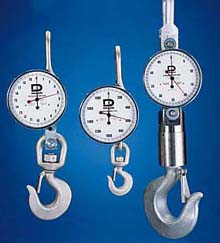 Model AP Mechanical Crane Scales have a long standing reputation for extended life and accurate, trouble-free performance.

FEATURES AND BENEFITS:
PDF Brochure
PDF Price List
Tough construction--
Mechanism case is a heavy aluminum alloy casting, tough enough to resist even heavy blows.
Protective finish--
Scale cases are coated with a baked-on powder paint process making them resistant to chips, scratches, rust and corrosion.
Tare function--
The zero control can tare out loads up to 20% of capacity.
Maximum indicator--
Remains in position to indicate peak load point after load is removed from scale.
Reduced wear--
Pinion and sector gears are cut from stainless steel and hardened aluminum. Use of these dissimilar materials greatly reduces friction and wear.
Safe for overhead installations--
5:1 ultimate safety factor on most models.